Where to golf in Regina
Flowing Springs Golf Greens is a popular golf course
Appealing to all ranges of players.
Flowing Springs Golf Greens is a professionally designed 18-hole course
. At up to 5874 yards, there many challenges for golfers of all skill levels.  Ideal for the first time golfer and to the golfer looking for a new challenge. With water on over 70% of the holes, precision shots are more important than distance. Although we offer a challenging 600 yard hole from the championship tee box.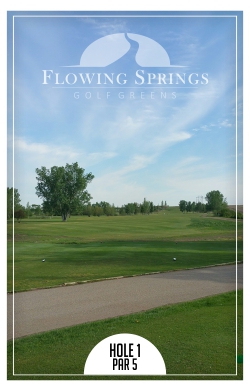 The course was well designed and professionally laid out, in order to utilize and bring into play the winding "Boggy Creek". This design incorporates the beautiful valley setting and its natural changes in elevation. You'll find each of the 18 holes offers the golfer a risk-reward challenge, especially the five par threes.
Flowing Springs Golf Greens offers several categories of seasonal memberships but still allows sufficient tee off times to accommodate the many daily players that frequent this very picturesque and challenging golf course.