Getting Ready to Golf
We have some long winters in Regina, but we are used to that.
Golfing in Regina is a little different than other places in Canada.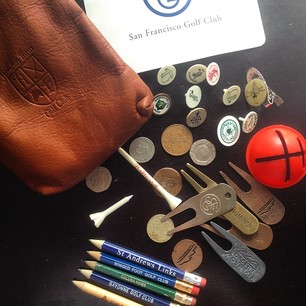 So your golf bag has been stored in the garage for 4 or 5 months now, the Masters Golf Tournament is on TV, and you are ready to play some golf.
It can be a little embarrassing to get to the course and realizes you don't have golf balls, tees, a glove, or any other of the essentials. Now is the time to get your golf bag in order.
The first thing you may want to do is clean out the golf bag. Pull out the sweater, winter gloves, 20 pencils, and assorted change and other items you don't need to carry around.
Now, lets reload your golf bag with the essentials.
[toggles]
[toggle title="Golf Towel:"]If you already have a good golf towel, you may want to wash it. If it is time for a new one, there are more options than you could possibly think of for just a towel. What you probably want to look for is a golf towel that you can wet down in the clubhouse and will stay wet for most of your round. Frogger Golf has a complete line of just such golf towels. Check the Pro Shop here at Flowing Springs for golf towel options. If you don;t see what you want, we can order it for you.[/toggle]
[toggle title="Golf Glove"]Chances are, if you golf a lot, you probably need a new golf glove for the season.It can get a little crusty or have worn holes in the fingers or the palm. The main purpose of a golf glove is for the grip. A lot of golfers never replace the grips on their clubs and the grips can become smooth over time. A golf glove will help with the grip and also help prevent any blisters or callouses. A golf glove also keeps your hand dry and warm (if it is a little cool out).
As in most cases, there are a ton of options for golf gloves. Check with one of the pro's at the Flowing Springs Golf Greens pro shop with help fitting into a new glove. [/toggle]
[toggle title="Golf Balls"]This is where golf can get expensive. Buying expensive golf balls and losing them. However, if you want to shoot better, playing with a good ball can shave a few strokes off your game.
Believe it or not, not every golf ball is made the same. There are golf balls for every type of golfer. Its out opinion to use the type of golf ball that compliments your game. If you are just starting out in golf, it is probably best to purchase/use some good condition used golf balls. We sell them in the Pro Shop here at Flowing Springs and you can also find them online (UsedRegina). As you and your game get better, you can purchase and use golf balls that will perform differently.   [/toggle]
[toggle title="Golf Shoes &Spikes"]If you are not wearing golf shoes you should consider it. It does help with your footing and grip in your swing and also a good pair of shoes will help your feet stay fresh with all of the walking. Have a look at your shoes and make sure all of the spikes are there and in good shape. If they are not, replace them.
If you don't want to buy a whole set of spikes or if you don't have a tool to replace them, our pro shop has a spike replacement area with all of the spikes and tools. [/toggle]
[toggle title="The Rest"]Now for the rest of the necessities, golf is played outdoors and the outdoors has its moments. Make sure you have bug spray, sunscreen, a hat or visor, sunglasses and a small first aid kit (band-aids, Tylenol, tape and other items to get you through a round. Nothing worse than a blister or small cut to ruin you concentration and round. Even some snacks and water if your bag can hold it. Once again, the pro shop and clubhouse at Flowing Springs Golf Greens has most if not everything you need.[/toggle]
[/toggles]
Get our and golf Regina, the season is short and the winters are long.