Golf Tips, Resources and More
Golf is more than swinging a club too hard
Golf is a mental game
Golf Tips for Regina golfers
Why is my golf swing so inconsistent? What can you do to fix it? What is the secret? The secret … there is no secret. There is probably not another sport that is more frustrating yet rewarding than Golf. If you go on the internet and search for things to help improve your game you will be overwhelmed. Golf is really a great sport to take up and here are a few reasons why:
It's a lifelong game that you can play form a very young age and still play well into your retirement age.
It's a great way to network and improve your career prospects if you meet the right person
It can be great exercise and mentally challenging.
However, what most people golfers don't realize is that it is something you need to practice and work at in order to get better at and more enjoyable. The people who golf for a living actually have coaches and practice as well. Even if you are just trying to improve your game a little or a lot, you need to practice and probably take some lessons. You wouldn't start downhill skiing without at least one lesson.
Why is golf so difficult to master?
There are so, so many factors that contribute to a well-rounded golf swing and no two people are alike. Just a few things that contribute to your own personal swing:
You may not be very flexible.
You may have ailments or injuries that affect your swing.
Your age may be affecting your swing.
There are so, so many factors and there are so many things that need to go right in a golf swing and they all have to work together in about a 2 second swing.
Proper grip
Proper feet position
Proper body position and movement
Not to mention all of the other factors that can affect your game and or swing including:
The weather
Course familiarity
Your golf equipment
Knowledge of the game and golf etiquette
Even your mood can affect your game
Some people believe that golf is almost be 100% mental.
By having the ability to forget a bad shot or an entire bad hole is probably harder to do than fixing a slice. Our suggestion is to practice as much as you can and take some lessons. Most casual golfers can become upset and even quit if they don't golf like they think they should.
Most people who golf don't practice at all or even consider taking lessons. Both things can change everything you know about golf and improve your game dramatically. To that end, we will post some golf tips here to help you get started. Please contact us if there is something you would like us to research and post here. Better yet, hire us to provide you some lessons, either one-on-one or as part of a group.
Golf Tips & Instruction
Driving Range
Book a Lesson
Driving Range
Types of Clubs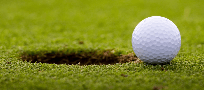 Season Golf Membership in Regina
If you like to golf a lot, alone, with anyone or with your regular group. Purchase a Golf Membership for Flowing Springs Golf Greens.
Read more …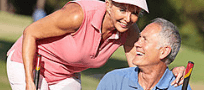 Seniors
Season Golf Membership in Regina
Retired or close to it? Spend your time golfing at Flowing Springs Golf Greens.
Read more …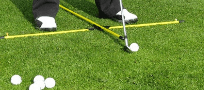 Driving Range Season Pass in Regina
Changing your swing? Just learning the game? Don't get frustrated on the course, fine tune your swing on the range.
Read more …