Contact Flowing Springs Golf Greens
Book a Golf Tee Time Regina
Flowing Springs Golf Greens
Call 306 543 5050 to book a tee time
Golf is a fantastic sport. There is no other sport like it. You can start at a young age and continue well into your retirement.
Golf is a great way to socialize. It gets you away from the computer, smartphone, and social marketing.
Golf is a form of exercise, especially if you walk and it's just a great way of enjoying the weather and the outdoors.
What other events can you do with friends, for 3 to 5 hours for under $50?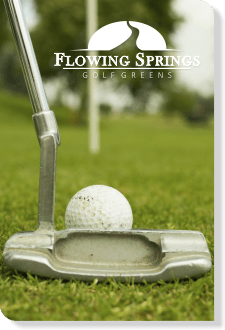 Golf is not as expensive as you think it is
Yes, a round of golf can cost over $50, depending on how many holes you are playing and how many beverages and snacks you buy.
Golf is a lifetime sport. If you don't golf that many rounds in a season, you do not need to buy the best equipment and have 14 clubs in your bag. If you plan on golfing a lot, then take your time to buy all the equipment you need.
Golf Equipment
Don't be pressured by all of the commercials with the latest golf equipment. If you don't have a perfect golf swing, the equipment isn't going to help. Your money would be better used with a golf lesson from Bryan or Barry here at Flowing Springs Golf Greens.
The average golf only needs a 7 piece golf set.
Driver (Optional)
3 Wood or 5 Wood
Set of Irons (3, 5, 7 and 9)
Putter
The staff in our pro shop can outfit you with a starter set of golf clubs. If you are buying used golf clubs, you just may want to have the clubs re-gripped. If the grips are smooth it will be difficult to maintain proper grip. Yes the staff at Flowing Springs Golf Greens can re-grip your clubs for you.
When it comes to golf balls, you do not need the expensive golf balls. You can buy quality new and used golf balls in our pro shop.
Again, depending on your experience, you don't need golf shoes either. A golf glove would be a good idea.
Book your tee time. Call 306 543 5050
Contact Flowing Springs Golf Greens
Our mailing address is:
Flowing Springs Golf Greens
P.O. Box 4049
Regina, SK S4P 3R9
Contact us at 306 543 5050
Flowing Springs Golf Greens | Where to golf in Regina
Book a tee time | Call 306 543 5050